Welcome to the clouds!
Top-flight facilities
Facilities & Location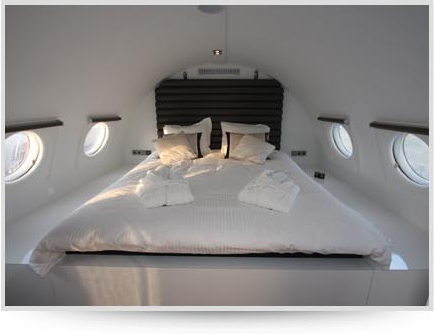 The entire airplane has been converted into a single luxury suite for two guests. This means you have the complete craft at your disposal - including its top-flight facilities, which include a Jacuzzi, separate shower, infrared sauna, mini bar, three flat screen televisions, blu-ray DVD player with a comprehensive collection of DVD's, a pantry with oven/microwave combination, coffee and tea maker, free wireless internet, air conditioning, etc.

The plane is an Ilyushin 18 and was built in 1960. In its first years, it served as a government plane for the DDR top dogs, including Erich Honecker. From 1964 to 1986 Interflug, an East-German airline company, used it for flights to countries like Cuba, Russia, China and Vietnam. It could accommodate a total of 120 passengers and a four-man crew in the cockpit.
Teuge airport is situated at the centre of the city triangle of Deventer, Apeldoorn and Zutphen. These historic cities all boast a large and varied shopping experience.
If you are a nature lover, you can visit the Veluwe nature reserve or Bussloo, a recreation area that offers swimming, fishing, hiking, golfing, horseback riding and diving facilities. Here, you will also find Thermen Bussloo, a very special and exclusive sauna, beauty and spa resort. An alternative is Veluwsebron, a five-star sauna complex. If you prefer golf, there are several golf courses in this area.